Hong Yun Hand Tools Co., Ltd.--Auto repair tools and accessories, extension bars, socket adaptors
2012/01/18
Established in 2007 in Taichung City, central Taiwan, Hong Yun Hand Tools Co., Ltd. is an experienced newcomer in Taiwan's hand tool industry.

The company is dedicated to developing and producing high-end hand tools for the auto repair and maintenance segment, boasting consummate metalworking capability and robust know-how about metal properties. Besides, the company insists on adopting the finest steel alloys sourced from China Steel Corp. to produce its hand tools, and handling 90% of manufacturing by itself to make sure the unbeatable quality is achieved.

The company now supplies a variety of extension handles, universal joints, socket adaptors, impact sockets, sliding T handles, and related auto repair accessories. The company's general manager Andy Chuang claims his company, bolstered by time-tested manufacturing competency, can also handle OEM and ODM production.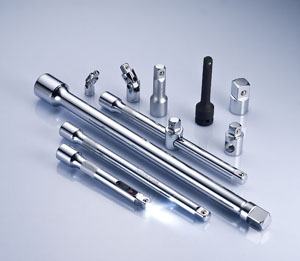 Hong Yun Hand Tools Co., Ltd.
No. 160, Lane 2, Zhongxing Rd., Sec. 1, Dali Dist., Taichung City, Taiwan
Tel: 886-4-2491-3122
Fax: 886-4-2491-3196
Email: hong.yun2008@msa.hinet.net